Featured Item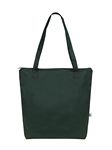 Promo Zipper Tote Bag
Promo Zipper Tote Bag - Zipper top tote, eco friendly. Made of Non Woven Polypropylene 80 GSM, Recyclable. 16"W x 14.75"H x 3"G with 28" handles.
$1.95 - $2.35
Select Manufacturers
Promotional Products for Lifestyle Advertising. Image Matters! You want the benefits of having employees and customers doing your advertising for you, but you won't put your name on just anything. You'll only put your logo on a product that conveys the best company image.
The Select Promo line of products are designed & built to hold up to the active life styles of your employees and customers and will continue to reward them for their patronage in years to come, while also providing walking billboards to further advertise your company Image.
You'll get more mileage out of your investment with the Select Promo Line because these products reflect the active lifestyles of your employees and customers. Instead of sitting on a desk collecting dust, our products with your logo will accompany your employees and customers to the game, to the park, on a hike, on a camping trip, to the coffee bar, on the airplane. They will want to use our promotional products in their everyday lives.
That's why we call what we do lifestyle advertising. Let us help you find the products that are right for your company's image. With Select Promo line in drink-ware, bags, fleece-ware and chairs, we offer a choice selection of items that you'll be proud to put your name on.
Browse our on line catalog for plentiful options that will enhance the lifestyles of your target market, and call your promotional product Distributor with any questions or special requests.
| | | | |
| --- | --- | --- | --- |
| Mugs and Tumblers | Tote Bags | Cooler Bags | Chairs |